Osnovna škola Matije Gupca
Ulica Matije Gupca 2, Croatia, HR043 - Krapinsko-zagorska županija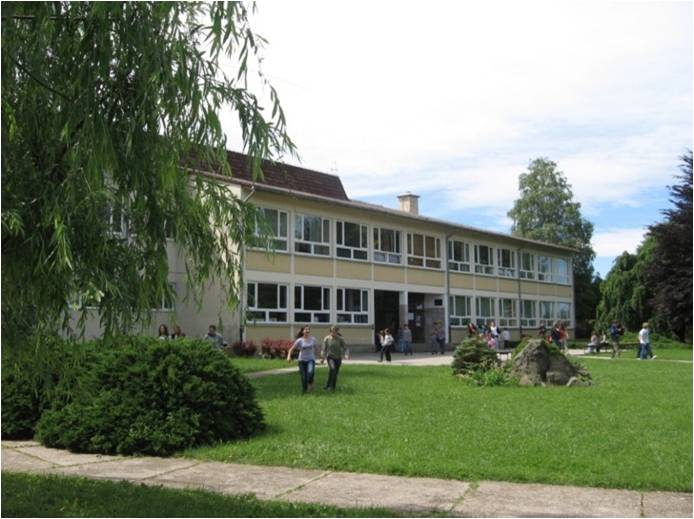 OS Matije Gupca Gornja Stubica is situated in Gornja Stubica, a rural community approximately 50 km from Zagreb, the capital of Croatia. There are 5 600 inhabitants in the Gornja Stubica region and the school registration domain is around 50 square km. OS Matje Gupca is a public elementary school for pupils aged 7-14 years with 387 pupils enrolled in the school year 2015/16. There are 45 teachers and 12 other staff, making it one of the larger schools in the Krapinsko-zagorska County. There is one main school for 1st-8th grade students and four satellite schools for 1st- 4th grade students in the villages around Gornja Stubica.
There is no actual kindergarten in Gornja Stubica, but there is a well-established preschool programme delivered in the main school and the satellite schools. There are two kindergarten groups in the main school, which provide a pre-school programme of 250 hours. There is a kindergarten group in each of the satellite schools with provision of 150 hours.
Croatia is still involved in re-building inter-cultural understanding and co-operation after periods of intense strife which are part of the region's recent memories. A particular challenge is to help children grow up and be educated within mutually tolerant multi-cultural communities, a process which we have found must start in their very early years.
The school is highly committed to addressing these sorts of issues and potential tensions, arising from movements of population and communities within and from outside the Balkan region, and with related issues of assimilating political and economic refugees. Accordingly, OS Matje Gupca has developed a range of distinctive approaches to early years education, as indicated in the section below.
The activities and expertise of Osnovna škola Matije Gupca relevant to the Project:
OŠ Matija Gubec Gornja Stubica's curriculum prioritizes the cultural heritage of its students, their social conditions, educational needs and priorities. All staff share this commitment and appropriate training. Hence the prominence of games in curriculum and pedagogy especially in early years provision. Play is emphasized in the mainstream curriculum as a way of entering and integrating children's diverse world-experience. Children are encouraged to gather traditional games from parents and grandparents, collate them at school, explain them in the classroom and enact them in the schoolyard. Game-playing and related activities are utilized by teaching staff as a means of helping children learn to co-operate and share with others in a variety of social situations and as a valuable starting point in creating multicultural communication. This was the focus for our Comenius project Sporture (Sport and nature, a great and healthy adventure) REF.NO 2013-1-TR1-COM06-47864. We joined schools from seven countries to publish a book of games and related products.
This emphasis on learning through play is carried through to an equal emphasis on learning through activity. It builds upon a tendency for younger children to be impatient with too much "quiet time", and their greater readiness to be active and engage in "hands-on" activity. As with learning through play, the school emphasizes such activity as a means of learning social skills alongside those of the conventional curriculum. Pupils are involved in constructive handicraft teams with a variety of outputs. They produce baskets (in traditional methods), homemade soap, and apple crisps from apples grown in the school orchard. They do embroidery, and collect plants to produce herbal tea. These activities provide a basis for developing the entrepreneurial awareness and competence of the students. They also reinforce the general curricular emphasis upon developing essential social and life skills such as co-operation and partnership working. The teaching staff are trained and experienced in these particular aspects of early years education.
In recent years the school and its staff have faced major challenges from an under-development of the children's' oral communication skills in their pre-school years. This is associated with the necessity for all adult family members to be engaged in economic activity outside the home leaving very young children to be left alone watching TV or playing video games. This is related to deficiencies in pre-school oral language development and socialization which impede acquisition of written language and other skills in the early school years. Under the leadership of the school's teacher-librarian these issues have been addressed through the development and delivery of specifically directed early years programmes based on:
reading aloud
telling stories
discovering and discussing topics emphasizing basic emotions (happiness, sadness, anger, fear) to develop better oral expression, increase motivation for reading and strengthen self-respect.
Key personnel:
Ines Krušelj-Vidas, teacher librarian and mother tongue teacher, promoted to adviser level by the Croatian national teacher's agency. She focuses on developing young students' reading competence (reading for pleasure, critical reading, reading to discover information), and developing oral communication through standard Croatian language and Kajkavian dialect, leading to an individual's intellectual, moral, emotional, spiritual, social, aesthetic, cultural and physical development. Ines is an experienced project leader at school and international level (ACES Project, Comenius project).
Ivanka Lisak, teacher of developing communication, especially drama expression among young students. Armina Rod, teacher of developing art expression organizing art workshops for young students. Natalija Ciglenečki, teacher on developing entrepreneurial competence among young students by organizing groups of students in school cooperative and developing different way of producing souvenirs, presenting products on exhibitions.
Bernarda Razum, teacher of Maths for young students.
Sanja Knezić, Headmistress, geography teacher, expert in GLOBE international program. The GLOBE Program is an international science and education program providing students and public worldwide with the opportunity to participate in data collection and the scientific process, contributing to our understanding of the Earth system and global environment.